At Tennisletics, we recognize that more than 25% of all tennis shots are returns of serves yet service returns are severely under practiced. What's more, it is difficult to simulate the smorgasbord of variety that you can experience the different servers. Balls can be launched from 80 inches to over a 100 inches, 50 mph to over 120 mph and with left and right-handed spins, slices, and trickery.
So, our team set off to Lifetime Tennis (part of Lifetime Fitness) in Plano, Texas to meet our partners Oncourt OffCourt and take the Ace Attack Serve Machine through its paces.
First launched in 2000, the Ace Attack Serve Machine has been continuously upgraded and refined since then by Sport Attack who make football machines used by every NFL team. The three-wheel design delivers realistic left and right-handed serves across the breadth of flat, slice and kick serves or groundstrokes at 20 mph up to 110 mph.
The machine can release balls from 42 inches (same height as a person hitting) at variable heights up to a lofty 100 inches like your very own 6-foot robot opponent was serving to you.
You can set up variable training patterns with 2-line, 3-line, and random oscillation. The clear hopper makes it really easy to see when you are almost empty. Maybe you are struggling with kick serves out to your one-handed backhand? No problem, we set up the service machine and some targets to start slowly and build technique and timing, then slowly ramped up speed and spin to kill the return. Adjust using the panel or remote control.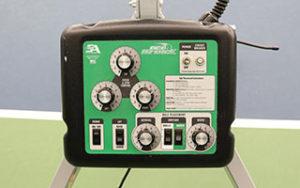 Or perhaps the flat serves down the 'T' are giving you grief? The Ace Attack has a flashing feed indicator to train your focus and work of the timing of your split steps and movement to make challenging returns. Manufactured in the USA, the Ace Attack is a durable, high-quality machine with a remote control that will last for decades and yet at $6,995 MPSRP is priced at half the level of competing machines. And, the Ace Attack can use regular and non-pressurized balls – and even transition balls – to help players of all ages and abilities. Want to get more returns in play so you can win more matches? Don't delay, get your hands on the Ace Attack through our Partners OnCourt OffCourt to start mastering your service returns.
Buy at Oncourt Offcourt Free shipping with offer code ACEFREESHIP
You might be interested in Best 8: Ball machines.