The season of giving is upon us with the holidays just around the corner. Finding the perfect gifts for the special people in your life can be a difficult task, especially for the person who has everything. To help ease any headaches we've pulled together a list of gift ideas for tennis lovers that are sure to be an instant hit this year.
hearO portable speaker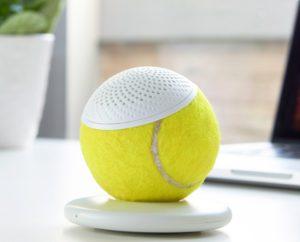 The hearO tennis ball speaker is the perfect gift for all tech-obsessed tennis fans. Made from a recycled championship tennis ball this powerful little speaker allows you to own a functional piece of tennis history. Approximately 300,000,000 tennis balls are produced worldwide each year, with hundreds of thousands being retired, hearO are taking steps towards reducing the waste. A hearO speaker is the perfect way to get any party started.
Precision Training Pro Jumbo Rebounder
If you don't have access to a court or partner, the Precision Training Pro Jumbo Rebounder is the perfect tool. With adjustable net height tape and a red square target, players can alter the conditions to practice a wide range of shots to help improve their overall game. Additionally, it's not just limited to tennis and can be used for a number of different sports.
Epirus Tennis Bags
Courtesy:  Epirus London
Epirus London's tennis bag collection is an excellent blend of style and functionality, making it an ideal gift for those who want to turn heads on the court. Our personal favorite is the 24-hour bag which is large enough for all of your tennis essentials, however, it's nowhere near as bulky as a traditional tennis bag. Designed with space for a laptop and other work accessories, as well as storage for tennis equipment this is the perfect bag for those who play tennis after a long working day.
Kid`s Tennis Twist Ball Machine
Courtesy: Tennis Express
A very compact and easy to operate ball machine, simply turn it on and the Tennis Twist will start firing tennis balls at 5-second intervals. With an adjustable range, the Tennis Twist can be used in just about any space and can be easily altered to help recreate different shots, making it a great gift for new tennis players. Additionally, weighing only 11 pounds it's simple to transport from your home to the court.
Masimo MightySat with Bluetooth LE
Courtesy: Massimo
Get highly accurate, hospital-grade data at your fingertips with the Masimo MightySat. The pulse oximeter monitors players' oxygen saturation and pulse rate to provide vital information that helps monitor training. This device provides a range of technical data that can help to make small improvements to a player's training plan, an ideal gift for a high-level tennis player or even your coach.
Gamma Pickleball Starter Pack
Courtesy: Gamma
If you love tennis you're likely to fall in love with pickleball, the perfect combination of tennis, table tennis, and badminton. The Gamma pickleball starter pack includes everything you need to get started, 2 pickleball paddles and 6 balls (you can choose whether you want indoor or outdoor balls). All you need is a court and you're good to go!
Gamma EZ Travel Cart Ball Basket
Courtesy: Gamma
Rounding up all of your tennis balls is the bane of every player's, and coaches, life. The Gamma EZ Travel Cart is the solution to all of your problems, a lightweight cart that has been designed specifically for mobility. It folds up in seconds making it easy to take from court to court and can hold up to 150 balls.