The holiday season is a time of giving. But what do you give to the tennis enthusiast friend or family member that already has everything? Not easy. In this article, we have compiled a broad and fun selection of the Best 8 Holiday Tennis Gifts of the 2018 season that are (hopefully) guaranteed to be a hit with the recipient.
Acurasee 8 foot Electronic Circle Tennis Target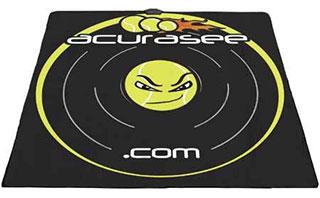 Price: $320.00 (With scoreboard)
Manufactured by: Acurasee (USA)
The Acurasee 8' Electronic Circle Target encourages players and coaches to think about the most important element in tennis - shot location. When the mat is struck with a tennis ball, the target sends a signal to the scoreboard, causing the scoreboard to provide visual (lights) feedback and audible feedback. Perfect for practicing hitting serves to various locations in the service box.
Portable Ping Pong Set
Price: $44.99
Manufactured by: Pro Spin
An all-in-one set that can turn any table into a fun ping pong tournament. Get a retractable net, two paddles, three professional training balls, and a storage case. Get set in seconds, on any table up to 72" wide with click & clamp posts easily fitting tables up to 2" thick. Each paddle and ball meets ITTF quality standards and has a 1-Year Warranty.
Court Couture Vintage Karissa Black Pebble
Price: $259.00
Manufactured by: Court Couture
For the female tennis player that value form and function on the court. This luxurious embossed faux leather bag holds up to two oversize tennis racquets in the front compartment. A large main compartment with inner pockets and outer pockets carry all accessories you might need. You get a separate cosmetics case in the same stylish style. Dimensions are: H16" x W20" x D6".
Tennis Mini Net 10 Foot
Price: $90.00
Manufactured by: Oncourt Offcourt
Here's a portable 10 foot Mini-Net that will last for use on the court and also in your driveway. The net sets up and breaks down in 60 seconds with no tools. The Mini-Net also adjusts in height from 30 inches to 64 inches so great not only tennis but badminton and beginner volleyball. The oval tubing makes setup easier and eliminates the possibility of the center frame twisting. And, if the net does get damaged, replacement nets are available.
Babolat Team Expandable 6-Pack Bag Multi Color
Price: $80.00
Manufactured by: Babolat
An innovative bag from Babolat which can be as big or small as you need it to be. The expandable bag can fit as few as 3 racquets and can expand to hold as many as 10 racquets. It features two compartments for racquets, with an internal separator in each compartment. The exterior of the bag has two accessory pockets, one on each side and padded shoulder straps on each side of the bag that can be worn as backpack straps or thrown over your shoulder. Dimensions: (smallest): L31.5" X H14" X W7", (largest): L31.5" X H14" X W14". Buy at Tennis Warehouse
Racquet & Ball Lariat Necklace
Price: $300.00
Manufactured by: Love by Hazel
This beautiful sterling silver tennis ball slips through a sterling silver racquet with 14k gold-plated handle. The 1.7mm sterling silver cable chain is affixed to a hook on the back of the racquet to keep it secure. Available in 16-inch and 18-inch lengths.
Tennis Skillastics
Price: $224.00
Manufactured by: Sandy "Spin" Slade, Inc.
Tennis Skillastics was designed to give children the opportunity to play tennis in a fun way and is a great tool in motivating children who are picking up a racquet for the first time in tennis clubs, schools, and tennis camps. The 26 activities include a mixture of all the basic tennis skills and activities for individual, partner, and team participation. Tennis Skillastics develops hand/eye coordination, improves concentration. In the nylon storage bag, you get a reinforced nylon activity mat (5' x 7'), 6 miniature reinforced nylon activity mats, 6 multi-colored die, 6 multi-colored bean bags, 26 laminated task cards, and instructional DVD and manuals.
Babolat POP
Price: $55.00
Manufactured by: Babolat
While not perfect, the Babolat POP is a fun, reasonably-proved wearable device that gives players the ability to start tracking their game regardless of the racquet they use. Babolat POP measures users swing speed, spin, and style. You pair your POP with a smartphone to access all the performance data allowing you to challenge and interact with friends. View data about your forehands, backhands, smashes, volleys, and overheads. Discover where you rank globally by sharing your data with the Babolat community.