With the holiday season upon us, tennis clubs around the country will be throwing tennis socials and getting their members together to celebrate. Whether you are enjoying Christmas, Hanukkah, New Year's Eve or any other celebration, to help get you in the spirit this year we've picked out some of our favorite ideas for throwing an ace tennis-themed holiday party.
Dazzling Decorations
You can't throw a killer event without going all out on the decorations and turning your venue into a true winter wonderland. Decorating is one of the most magical moments of the period and these tennis-themed decorations are a must for all tennis lovers.
Courtesy: Pinterest
Or if you feel like going the extra mile this year why not make your Christmas tree or another ornament entirely out of tennis balls and create an amazing and fun centerpiece for your party.
Courtesy: Pinterest
If you're planning on serving food at your party then why not serve it on a table tennis table, as long as you aren't planning on hosting a table tennis competition. Once again this is a quick and simple way to incorporate the tennis theme throughout your party. Additionally, these DIY tennis ball table decorations make fantastic food markers and are really handy if you are putting on a buffet.
Courtesy: Pinterest
Perfect Party Games
No holiday party would be complete without party games! If you're throwing the party at a venue that has access to a tennis court, and the weather allows it, then why not arrange a round robin style tournament to encourage some competition between your guests, and arrange prizes for the winners. If you don't have a tennis court Swingball is a good alternative that everyone can join in with or play a game of driveway tennis with a shorter net and softer ball. Additionally, a tennis ball piñata is an extremely fun game that everyone can enjoy, no matter their age or tennis ability.
Courtesy: Fiestapinata
Gorgeous Gifts
This is the season of giving. Give your guests something they will remember with these simple tennis-themed party favors. Simply cut a circle in the top of a tennis ball and fill it with candy or other treats.
Courtesy: Pinterest
If you're looking to go the extra mile they why not make individual gifts for all of your members/guests to guarantee they'll remember your party. These personalized decorations are simple to create and look great and the best part is they can be reused each year to decorate your guests home.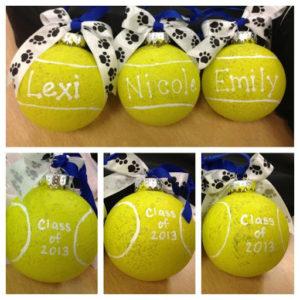 Courtesy: Pinterest
The holiday season is the perfect time of year to get together and celebrate with friends and family. These simple yet effective ideas will make sure your holiday party is an instant success and the talk of the tennis club.